Books are some of the best friends a pastor can have. How to know which friends to have is quite difficult, for as the inspired Preacher said, "Of making many books there is no end" (Ecclesiastes 12:12). I recently suggested three books every time-strapped and budget-strapped pastor should read on pastoral ministry, preaching, and prayer.
In light of my post "Preaching Pastors as Worship Pastors" it seems wise to let the next installment of "3 Books Ever Pastor Should Read" be on the topic of worship.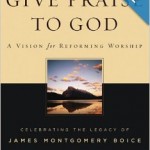 Give Praise to God: A Vision for Reforming Worship. This is a Festschrift in honor of James Montgomery Boice, a man who loved to worship. Eighteen different chapters are offered under four parts: 1) The Bible and Worship, 2) Elements of Biblical Worship, 3) Preparing for Biblical Worship, and 4) Worship, History, and Culture. Lig Duncan's two chapters alone are worth the price of the book as he answers the question "Does God Care How We Worship?" with clarity and power. He helpfully encapsulates Reformed worship as being simple, biblical, transferable, flexible, and reverent. Other chapters of contemporary importance are Rick Phillips' work on The Lord's Supper, Terry Johnson's discussion on singing the psalms, and Bob Godfrey's evaluation of worship and the emotions. This book covers an astonishing amount of ground on the topic of worship and every chapter drips with biblical conviction. A most invaluable addition to your library.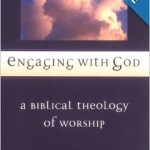 Engaging with God: A Biblical Theology of Worship by David Peterson. Peterson's seminal study on worship must be reckoned with. He defines worship as "an engagement with God on the terms that he proposes and in the way that he alone makes possible." He then moves on to show the nature of worship according to the Old and New testaments. He talks of worship in the New Covenant primarily as service and edification, thus he minimizes – somewhat unfortunately – the worshipful nature of a congregation's public gatherings. He understands this reality, but in some ways is reacting against the Australian milieu in which he writes. Petersons' tone is irenic and responsible, I don't know of another resource that will so ably provide a pastor with the biblical foundation for understanding worship.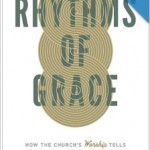 Rhythms of Grace: How the Church's Worship Tells the Story of the Gospel by Mike Cosper. I bought this book thinking it would be a decent addition to the conversation on worship, but oh how I underestimated Cosper! He brings together the best of all that has been published on worship and then puts his Cosper-like curve on the subject. The "One, Two, Three" framework he offers is quite useful: worship has one object and author (God), two contexts (gathered and scattered), and three audiences (God, the church, and the watching world). Every pastor and church member should read chapter nine,"Sing, Sing, Sing," which offers uncommon wisdom on the topic and rightly challenges Christians to move from being a critic to a participant. An excellent work not to be underestimated.
HONORABLE MENTIONS
Christ-Centered Worship: Letting the Gospel Shape Our Practice by Bryan Chapell. The prose is dry and the structure is one of a textbook. Yet, Chapell's historical sensibility and clear grounding in Scripture will help every pastor examine his church's liturgy.
Worship Matters: Leading Others to Encounter the Greatness of God by Bob Kauflin. The book is directed mostly toward music leaders, but Kauflin's wisdom is always a joy to hear or read.