Whittling down the list of books I read each year to a select few favorites is always an enjoyably difficult exercise. This year I decided to employ two criteria for my list of favorite Christian books from 2014:
Does this book have unusual benefit to ordinary pastors?
Is this a book worth rereading every year?
Those two simple questions helped me pare down all the titles I've read to the following seven books, each of unique value to the ministry of ordinary pastors. Then I have three more titles worth your interest at the end.
FAVORITE BOOKS FOR MINISTRY PUBLISHED IN 2014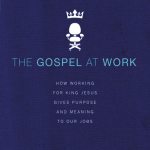 #7 – The Gospel at Work: How Working for King Jesus Gives Purpose and Meaning to Our Jobs by Sebastian Traeger and Greg Gilbert. It's been quite a while since I read a book and immediately thought, "I need to get this into as many hands as possible." The Gospel at Work is one such book. I wholeheartedly concur with Dever when he says, "I want to make this a basic staple in my discipling."Filled with an uncanny amount of clarity and practicality, this is one of the best books a pastor can use is discipling church members to use their respective vocations for the glory of God.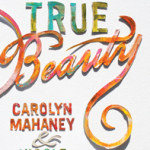 #6 – True Beauty by Carolyn Mahaney and Nicole Whitacre. I'm always on the lookout for books I can pass along to women in my church for their encouragement and edification. True Beauty is the best one I've come across in quite some time. "Excellent. Wise. Clear. Convicting. Encouraging." These would all be words I'd use to describe this offering by the mother and daughter duo of Mahaney and Whitacre. With biblical and cultural awareness the book covers all the bases one would expect: True Beauty and Our Hearts, True Beauty and Our Bodies, and True Beauty and Our Clothes. The chapters on beauty's relationship to trust and works are especially useful. I count it no small matter that we've sold more copies of this book at IDC in 2014 than any other . . . by far. Mahaney and Whitacre clearly have something important to say.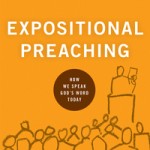 #5 – Expositional Preaching: How We Speak God's Word Today by David Helm. Chandler says this book is "the most helpful, concise, and useful book on expository preaching I have ever read." Dever says if he could only assign one book for a preaching class this might be the one. Does the book live up to its hype? Absolutely. I found the first chapter on "Contextualization" abundantly useful, especially when Helm talks about how "blind adherence to contextualization alters our preaching" (17). The alterations of impressionistic preaching, inebriated preaching, and inspired preaching are helpful categories to fight against. Helm's definition of expositional preaching alone is worth the books weight in gold.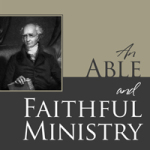 #4 – An Able and Faithful Ministry: Samuel Miller and the Pastoral Office by James Garretson. Samuel Miller was a key player in the glory years of Princeton Seminary, particularly in his instruction related to the gospel ministry. Garretson ably introduces the reader to Miller's life and times before proceeding to offer something like "The Best of Miller on Pastoral Ministry" taken from sermons, published writings, and unpublished lectures. The exhortations from the old Princetonian are piercing and regularly profound. Hats off to Garretson and Reformation Heritage for serving the church so well in this publication. An Able and Faithful Ministry turned out to be arguably my favorite book on the ministry outside of Charles Bridges' classic.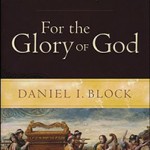 #3 – For the Glory of God: Recovering a Biblical Theology of Worship by Daniel Block.  I've always found Block to be a bit iconoclastic at times and that tendency is on display from the earliest pages of this book. He believes, and I'm inclined to agree, that too many of the standards works in the field of worship drive an unfortunate wedge between the two testaments' instruction on worship. Block reveals greater unity across the canon on all kinds of worship matters. He defines true worship as "reverential human acts of submission and homage before the divine Sovereign in response to his gracious revelation of himself and in accord with his will." With this definition in place he arranges his material topically, choosing to show how a given issue (such as the object of worship, the ordinances, music, and the proclamation of Scripture) develops across redemptive history. Every chapter is consumed with rigorous exegesis of the relevant texts, but practical application is never lacking as Block consistently offers logical and wise implications for worship in our day.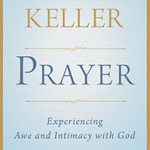 #2 – Prayer: Experience Awe and Intimacy with God by Tim Keller.  Keller has done something almost magical in this book as he manages to strike all the right balances on the timeless subject at hand. He is forcefully clear about the duty of prayer, joyfully winsome about the privilege of prayer, reverently affectionate about the awe-filled experience of prayer, and immanently useful on the daily practice of prayer. The work abounds with piercing insights from Keller and all the saints of old upon which he calls. One needs only to read the chapter on praising God in prayer to see how Keller enlivens a most basic – and often assumed – aspect of communion with God. A fantastic achievement.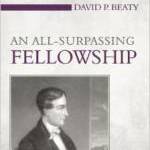 #1 – An-All Surpassing Fellowship: Learning from Robert Murray M'Cheyne's Communion with God by David Beaty. Of all the figures I've learned from in church history none has been more pivotal than the young Scotsman named M'Cheyne. So I'll grant that I'm unusually predisposed to love this book. But, oh what a book it is! I can't remember the last time I read a new publication and was this affected; tears of gratitude and repentance came from almost every chapter. Beaty is to be commended for simultaneously giving us a masterful biography of M'Cheyne and an unbelievably accessible portrait of his communion with God. Choice selections from original works, letters, sermon, and poems occupy almost every page and Beaty manages to offer it up with cohesive eloquence. This book now occupies an exclusive shelf in my study, the "Read at Least Once a Year" shelf.
FAVORITE BOOK FOR MINISTRY NOT PUBLISHED IN 2014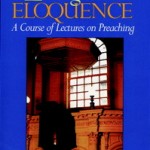 Evangelical Eloquence: A Course of Lectures on Preaching by R.L. Dabney. For years my Presbyterian friends have said, "You've got to read Dabney's Evangelical Eloquence!" The poor Southern Presbyterian's lectures have been collecting dust in my study for some time, but a few weeks ago I finally pulled it out . . . and I may have just discovered my personal authorized text on preaching. If I ever taught a class on preaching, this would be the primary text. Here we find the preaching ministry treated with gravity, scripturalness, and simplicity (which, incidentally enough are Dabney's "3 Special Qualities of Biblical Preaching"). Originally published in 1879 as Sacred Rhetoric, these lectures have more than passed the test of time; over and over I found myself convicted, challenged, and led to write, "Amen!" in the margin. Dabney's introductory lecture on "The Preacher's Commission" will fan aflame a love for the sacred desk, and his lectures on the "Cardinal Requisites of the Sermon" should be requisite reading for preachers young and old. The old man gets extra credit for concluding the work with a lecture on public prayer. A fantastic volume!
FAVORITE NON-FICTION BOOK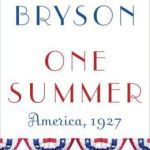 One Summer: America, 1927 by Bill Bryson. I read One Summer way back in January and the fact that it occupies this space, so many months after reading it, shows how singular a book it is. Fun and informative are the operative words here. Bryson walks the reader through life as it was in America during the summer of 1927, a surprisingly potent season in our nation's history. Charles Lindbergh crossed the Atlantic, Babe Ruth was on the way to his magical 60, Al Capone ruled corrupt Chicago, the enigmatic Calvin Coolidge dressed up as a cowboy, and a Jack Dempsey fight attracted 150,000 fans. Bryson compellingly weaves the various story lines together, even if many of the characters are treated with a eye towards irreverence. One Summer proves just how delightful history can be.
FAVORITE FICTION BOOK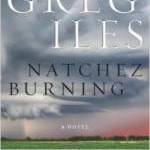 Natchez Burning by Greg Iles. When Stephen King proclaims a book to be "extraordinarily entertaining and fiendishly suspenseful; I defy you to start it and find a way to put it down," I feel my literary senses challenged to a duel I cannot refuse. I quickly purchased Natchez Burning and Mr. King's superlative defiance is well founded; this book is marvelous. Iles' thriller is set against the dark racial tensions of Mississippi in the 1960s, tensions that span all the way into 2005 when the protagonist's father is accused of murder. The murder sets in motion a series of events the last four decades have managed to suppress, events Iles plans to cover in a projected trilogy (with Natchez Burning being the first volume). I'm still astounded how Iles leaves most of the plot lines open, but resolves just enough of the storyline to not offend the reader's need for some finality. I'm eagerly awaiting the trilogy's second entry, The Bone Tree, this coming April.