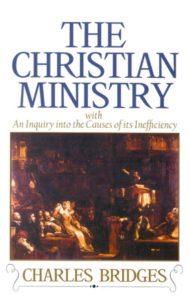 I've said before that Charles Bridges' The Christian Ministry is the best book available on pastoral ministry. I believe no other work can compare in substance, depth, and conviction.
It thus smiled when I read a letter from M'Cheyne to Andrew Bonar during preparations for the Church's "Mission of Inquiry to the Jews." M'Cheyne starts by urging Bonar to join the team. Eventually M'Cheyne comes to ponder aloud what books he should bring on the trip. He says, "As to books, I am quite at a loss." But he was certain as to a few essentials:
My Hebrew Bible, Greek Testament, etc., and perhaps Bridge's (sic) Christian Ministry for general purposes,—I mean, for keeping us in mind of our ministerial work."
I think he's exactly right. If you have your Bible and The Christian Ministry always within reach, you'll find fresh fire for faithful ministry.
Save