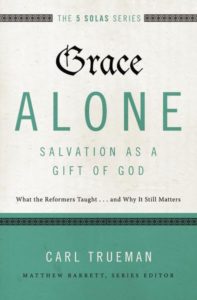 Zondervan wants to help us celebrate the 500th anniversary of the Reformation. So, they've published the "5 Solas Series," edited by Michael Barrett. "We need these solas just as much today as the Reformers needed them in the sixteenth century," Barret argues. He is undoubtedly right.
My favorite entry in the series is Carl Trueman's Grace Alone: Salvation as a Gift of God. Trueman begins by surveying the Bible's teaching on grace. He critiques modern conceptions of grace as something like a divine sentiment, showing that God's word consistently connects grace to Christ. Ever the consummate church historian, Trueman then ably traces the doctrine through the ages before coming to the Reformers central arguments on sola gratia (his primary discussion partners are Augustine, Thomas, Luther, and Calvin).
The whole work is valuable and would be useful for small group discussion. The conclusion itself is well worth your money. There Trueman offers ten "hints as to the identity of a sola-gratia church." Let me try to whet your literary appetite by giving you those hints with a choice quote or two.
What Marks a Grace-Alone Church?
A grace-alone church takes sin seriously. "A proper understanding of grace depends on a prior, proper understanding of sin and the human predicament."
A grace-alone church takes Christ seriously. "If we speak of grace without speaking in the name of Christ, we are not speaking biblically of grace. In the Bible, grace is so intimately connected with Christ that Christless talk is graceless talk."
A grace-alone church takes God's priority in personal salvation seriously. "A grace-alone church will be one that unashamedly declares God's sovereign priority over all of creation and his sovereign priority over the church and her people."
A grace-alone church takes assurance seriously. "The church which takes grace seriously will constantly point her people to [the truth of God's sovereign in Christ] with the aim of reassuring them that, whatever comes to pass, God is both sovereign and gracious."
A grace-alone church takes the corporate gathering of the visible church seriously. "A church which takes grace alone seriously knows that . . . the primary reason we go to church is to receive God's grace through the word and sacraments."
A grace-alone church takes the Bible seriously. "The Bible is God's revelation of the history and identity of his people and supremely of his purposes for them as they culminate in Jesus Christ. Given this, we may need to spend time reflecting on how the Bible functions in our churches."
A grace-alone church takes preaching seriously. "Preaching was central to the Reformation because of how the Reformers understood grace . . . The word brings grace."
A grace-alone church takes baptism seriously. "Baptism is part of God's gracious economy, to be taken seriously by all Christians . . . As Paul would point people back to the fact that they were baptized as the basis for pressing home their new identity in Christ and the great imperatives of the Christian life, so we should do the same."
A grace-alone church takes the Lord's Supper seriously. "The Lord's Supper gives us Christ—in a different form from the word, but gives us Christ nonetheless, and a church that believes in grace alone will be a church where the Lord's Supper is considered to be important."
A grace-alone church takes prayer seriously. "A church that takes grace seriously knows that she exists only in complete and total dependence on the Lord who bought her. Such a church will know that it is vitally important to call out to the Lord for all things, that conversions, Christian growth, discipleship, and worship all depend on God himself."