A few weeks ago I was at a pastors' conference sponsored by Reformation Heritage Books. One of the free giveaways was James Garretson's excellent volume on Samuel Miller and pastoral ministry. After the session, I talked to numerous men who hadn't heard of the book, let alone read it.
"My brothers, these things ought not to be so."
Usefully and Diligently
For some years now, Garretson has quietly assembled an arsenal of work on pastoral ministry in the tradition of Old Princeton. He's edited two volumes of various material from the Princeton men on Christian ministry. He's also put together a collection of funeral sermons, memorial addresses, and magazine articles, honoring the labors of Princeton's leading faculty.
In my view, his best work comes to us in three different books that each unveil one Princetonian's teaching on gospel ministry. A feast awaits any hungry pastor. The Princeton men gave us a model of what pious, learned ministry looks like—and can achieve for Christ. Don't let these volumes go unnoticed, brother pastor. Tolle lege!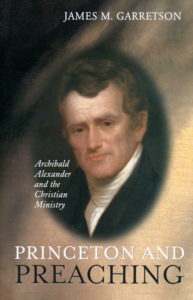 Princeton and Preaching: Archibald Alexander and the Christian Ministry. How does one know whether God is calling a man to the pastoral ministry? Are we aware of the moral, intellectual, and physical qualifications needed for the Christian ministry? What are the best methods of sermon preparation and should the preacher pay as much attention to preparing his own heart as to preparing the message he is to preach? On what kinds of subjects should a pastor preach, and how should such preaching be done? What is really involved in being a shepherd of Christ's flock? Do we know what kinds of discouragements and encouragements face the pastor in his ministry?
These are some of the issues this book addresses. Dr. James Garretson has drawn together wise, practical, and relevant insights into the call, qualifications, and work of the Christian pastor from the extant lecture notes of one of Princeton's best loved and most respected teachers, Dr. Archibald Alexander. As you read this book you will feel as if you were sitting at the feet of this 'first-class theologian, mentor and minister of the gospel', alongside the many students of 'Old Princeton' whose lives and future ministries were moulded by Alexander's inspiring classroom instruction. You will also discover to your lasting profit that Alexander's wise counsel on pastoral theology, drawn as it was from the ever-fresh spring of Holy Scripture, remains of continuing value for today's preachers who seek to walk in the sound and fruitful paths of their godly forefathers.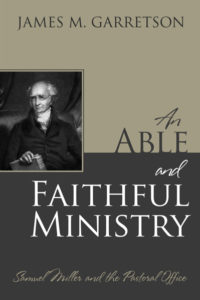 An Able and Faithful Ministry: Samuel Miller and the Pastoral Office. Samuel Miller (1769–1850) played an integral part in founding Princeton Theological Seminary, which became one of the most influential training grounds for Presbyterian ministers in the nineteenth century. While Miller is most commonly remembered for his writings on church office, he also played a significant role instructing students and shaping their theology of preaching and pastoral ministry. In the present volume, Jim Garretson highlights the narrative of Miller's life and the major ministerial emphases found in his published writings, sermons, and unpublished lecture notes. As a result, readers will come to know the spiritual convictions of Miller's heart and understand the theology of ministry he imparted over the course of his lifetime.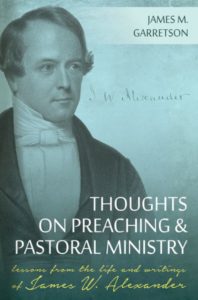 Thoughts on Preaching and Pastoral Ministry: Lessons from the Life and Writings of James W. Alexander. In Thoughts on Preaching and Pastoral Ministry, James M. Garretson provides a detailed narrative of James W. Alexander's life in order to better understand his approach to gospel labors. Garretson draws deeply from Alexander's correspondence, tracking the spiritual development of his life as it shaped his practice of pastoral ministry. In addition, assessments of Alexander's sermons, books, and especially reviews provide valuable personal statements that shed light on his character and convictions. Throughout, Alexander is allowed to speak for himself so that the reader may enter into the spiritual pulse that animated his life and actions. Bracing, heartening, and at times frustrating, Alexander's growth as a Christian and development as a minister is the story of a man subdued by God's grace and a life marked by a growing conformity to the likeness of Christ. For those whose privilege it is to serve as ministers of the gospel, Alexander's life and instruction provide inspiration and wisdom for how to do pastoral ministry well and with all of one's heart.
If you want to listen to Garretson speak on Princeton and pastoral ministry, try this message from the 2012 Conference at Greenville Presbyterian Theological Seminary.