Books are some of the best friends a pastor can have. How to know which friends to have is quite difficult, for as the inspired Preacher said, "Of making many books there is no end" (Ecclesiastes 12:12). So every couple of weeks I suggest three books a pastor should read on a given topic, hoping they will serve his ministry.
Few areas of theology are as simultaneously difficult and useful as that of our Triune God. The difficulty comes from the sheer mystery of it all. The usefulness comes from its far reaching application to the church's worship and life together. I think we can all agree that studying the Trinity is of utmost importance for a pastor. Such study provides balance in his understanding of the godhead, protects him from theological reductionism (eg. Christomonism), and aids his faithful proclamation of salvation accomplished and applied.
Here then are three suggestions for reading about the deep things of God: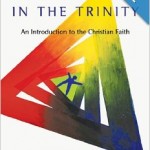 Delighting in the Trinity: An Introduction to the Christian Faith by Michael Reeves. I know of no other 130 page book containing the stunning depth and wit as this one. Reeves argues that God as Father must be the starting point in our doctrine of the Trinity and then proceeds to show how this overflows into our view of the Son and Spirit. Delighting in the Trinity offers up biblical and historical sensitivity with an unusual freshness that will cause the soul to explode in doxology. I have had read this book with dozens of men and it has received a surprising amount of unvarnished praise. I don't hesitate to include it among the best books I've ever read.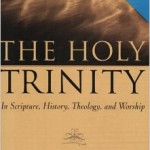 The Holy Trinity: In Scripture, History, Theology, and Worship by Robert Letham. For me, Reeves has the best "short-ish" book on the Trinity and Letham has the best "long-ish" one. In over five hundred pages Letham does exactly what the subtitle heralds: evaluate the Trinity in Scripture, history, theology, and worship. Letham's writing is clear, if weighty – you might find yourself making good use of the glossary. Those savvy with historical theology might quibble with his immediate jump from Calvin into the 20th century, but it would be a small quibble indeed. This heavy read leads to a happy heart.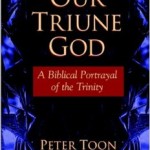 Our Triune God: A Biblical Portrayal of the Trinity by Peter Toon. Our Triune God is a Trinitarian primer is aimed to aimed at the person in the pew. As such, it is rigorously clear, profoundly biblical, and unshakably orthodox. The prose isn't as lively as Reeves or Sanders, but it's truth is accessible and satisfying. Toon's work will help make sure you have a healthy, biblical, and clear formulation of the trees which make up the forest of Trinitarian doctrine.
HONORABLE MENTIONS
De Trinitate (On the Trinity) by Augustine. Sure, reading Augustine is akin to a 300lb theological deadlift. But he has a pivotal place in the development of Trinitarian doctrine for a reason.
The Deep Things of God: How the Trinity Changes Everything by Fred Sanders. Sanders has great fun extolling evangelical Trinitarianism; I bet you'll have great fun reading it.