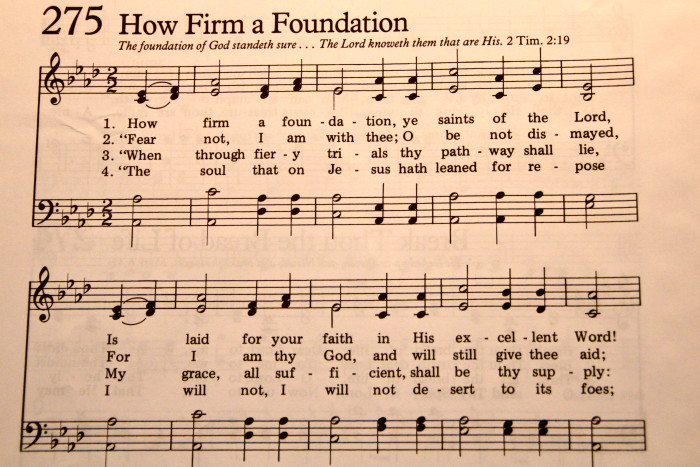 Part of ordinary ministry is leading our churches to sing the best songs possible. We want songs full of biblical and theological truth that soar on congregational melodies. One such song is the classic, "How Firm a Foundation."
Singing Scripture's Powerful Promises
For sixty-three years Rippon pastored Carter's Lane Baptist Church in London, starting in 1775. During his years at Carter's Lane Rippon developed a vision for a congregational hymnal and with the help of Robert Keene (his minister of music) A Selection of Hymns from the Best Authors, Intended to Be an Appendix to Dr. Watts' Psalms and Hymns was published in 1787. It was a runaway bestseller, especially among the Baptists, going through eleven different editions in Rippon's lifetime.
It was here "How Firm a Foundation" made its debut. No one knows its author as the author's line simply bore the letter "K." Thus, our best guest is the song came from the pen of Keene. What's undeniable is the songs lyrical power. Each of the original seven verses are based on explicit biblical promises, including:
"Fear thou not; for I am with thee: be not dismayed; for I am thy God: I will strengthen thee; yea, I will help thee; yea, I will uphold thee with the right hand of my righteousness."

(Isa. 41:10)
"

When thou passest through the waters, I will be with thee; and through the rivers, they shall not overflow thee: when thou walkest through the fire, thou shalt not be burned; neither shall the flame kindle upon thee.

" (Isa. 43:2)
"

And he said unto me, My grace is sufficient for thee: for my strength is made perfect in weakness. Most gladly therefore will I rather glory in my infirmities, that the power of Christ may rest upon me.

" (2 Cor. 12:9)
"H

e hath said, I will never leave thee, nor forsake thee.

" (Heb. 13:5)
It is not surprising then to find out the song was originally titled, "Exceedingly Great and Precious Promises."
Lyrics
How firm a foundation, ye saints of the Lord,
Is laid for your faith in His excellent Word!
What more can He say than to you He hath said,
You, who unto Jesus for refuge have fled?
In every condition, in sickness, in health;
In poverty's vale, or abounding in wealth;
At home and abroad, on the land, on the sea,
As thy days may demand, shall thy strength ever be.
Fear not, I am with thee, O be not dismayed,
For I am thy God and will still give thee aid;
I'll strengthen and help thee, and cause thee to stand
Upheld by My righteous, omnipotent hand.
When through the deep waters I call thee to go,
The rivers of woe shall not thee overflow;
For I will be with thee, thy troubles to bless,
And sanctify to thee thy deepest distress.
When through fiery trials thy pathways shall lie,
My grace, all sufficient, shall be thy supply;
The flame shall not hurt thee; I only design
Thy dross to consume, and thy gold to refine.
Even down to old age all My people shall prove
My sovereign, eternal, unchangeable love;
And when hoary hairs shall their temples adorn,
Like lambs they shall still in My bosom be borne.
The soul that on Jesus has leaned for repose,
I will not, I will not desert to its foes;
That soul, though all hell should endeavor to shake,
I'll never, no never, no never forsake.
Various Arrangements
Here are four different arrangements of the hymn. The first three retain the traditional melody and the fourth channels all the production of modern CCM music.