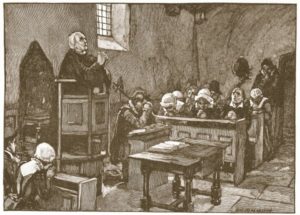 In his latest book, Some Pastors and Teachers: Reflecting a Biblical Vision of What Every Minister is Called to Be, Sinclair Ferguson has a wonderful chapter on the Puritans and ministers of God's word. Near the end, he offers seven implications for preaching from their example.
A commitment to the hard work of studying, meditating on, and appyling to oneself the truth of Scritpure.
A concern to speak God's truth to all of God's people, however simply they may be. The great Puritans were well-educated and highly intelligent ministers; but they knew that the concealment of art is also an art.
Preaching the whole counsel of God, for the conversion of men and women, for the glory of God alone in whose presence both great and obscure must be exposed as sinners.
Manifesting wisdom in teaching and applying the word of God, as well as the grace of God, in the very spiritof the preaching without "passion or bitterness."
Doing so with a sense of the gravitas which ought to characterize a servant of God. This influenced the minister's physical demeanor and even the use of his voice. The preacher is neither joker nor trifler. He is not sent by God to entertain and amuse, for life is more of a tragedy than a comedy. Message and manner must harmonize or the message itself will be trivialized. Emotions and affections in preaching must be consistent with and expressive of the very substance of the text which is being expounded.
Neither is the minister to be lugubrious and censorious, but rather filled with a loving affection for those to whom he ministers and preaches. Nothing is better calculated to win hearers than their knowledge that their minister has "a hearty desire to do them good." The Puritans recognized that people will take a great deal from such a man.
All this is to be backed up by a life which is consistent both in private and public with the message that is preached.