Books are some of the best friends a pastor can have. How to know which friends to have is quite difficult, for as the inspired Preacher said, "Of making many books there is no end" (Ecclesiastes 12:12). Every so often I recommend three books for pastors on a given topic, hoping the suggestions might hone your book budget.
Two weeks ago I read Borgman and Ventura's useful little book, Spiritual Warfare: A Balance and Biblical Perspective, and said it "isn't profound like Powlison's or pointed like Leahy's, but it is a mighty fine introduction to an always pressing topic." Much ink has spilled on this issue of spiritual warfare, but not all of it is good. The choices for studying our striving against Satan are legion and here are the first ones I'd recommend you read: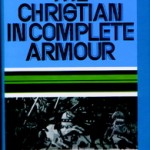 The Christian in Complete Armor by William Gurnall. The Puritans discussed spiritual warfare with a biblical depth uncommon to our time and Gurnall's magnum opus is the pinnacle. I will let three spiritual giants convince you of its value: "If I might read only one book beside the Bible, I would choose The Christian in Complete Armour," said John Newton. Spurgeon wrote, "Gurnall's work is peerless and priceless; every line is full of wisdom; every sentence is suggestive. The whole book has been preached over scores of times, and is, in our judgment, the best thought-breeder in all our library." Finally, good Bishop Ryle offered this endorsement, "You will often find in a line and a half some great truth, put so concisely, and yet so fully, that you really marvel how so much thought could be got into so few words."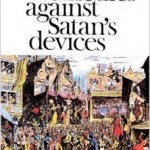 Precious Remedies Against Satan's Devices by Thomas Brooks. If Gurnall is to big a pill to swallow, then I'd start with Brooks. He might be the liveliest and clearest of all the Puritan authors. Precious Remedies are offered for thirty-one different devices of Satan and then Brooks concludes with "Ten Special Helps and Rule Against Satan's Devices." This book will not only fuel your fighting against Satan, but also inflame your heart with zeal for your Captain.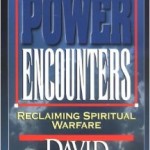 Power Encounters: Reclaiming Spiritual Warfare by David Powlison. Unfortunately this book has gone out of print, so you'll definitely want to grab a used copy. Back in the early 90s Frank Perretti's novels brought spiritual warfare to mainline evangelicalism and the power encounter model became king. Most popularly advocated by Neil Anderson and Timothy Warner, the power encounter model can be summarize as a person saying, "I command you demon, in the name of Christ, to depart from him/her/it/here!" There are more nuances to be shore, but not many more. Powlison ably counters this view with what can be called a "Truth Encounter"; astute biblical interpretation and pastoral sensibility in fighting spiritual darkness. If you don't want to fork over the cash money for Power Encounters, check out Powlison's chapter in Understanding Spiritual Warfare: Four Views. It will give you the general contours of his teaching.
HONORABLE MENTION
Satan Cast Out: A Study in Biblical Demonology by Frederick Leahy. A forgotten gem that offers clarity and concision in abundance.
Check out my past suggestions in the "3 Books Every Pastor Should Read" series here.