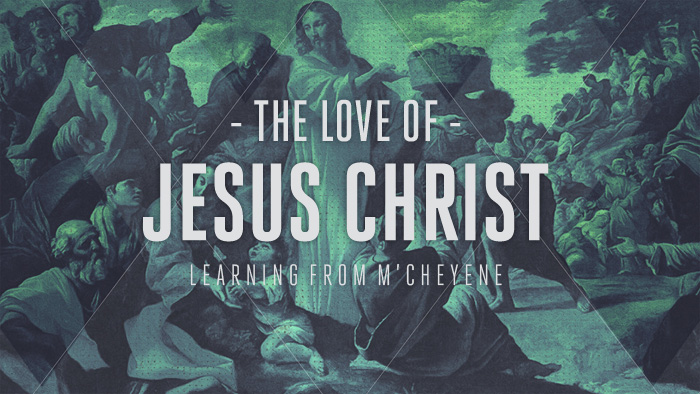 After several months spent swimming in the ocean of pastoral ministry and Ph.D. studies, I've feel as though I'm resurfacing with a few weeks off before another semester begins. I'm thus eager to haunt this here blog space once again with greater frequency.
A Spirituality of Trysts
One of the seminars I took this spring was "Theological Foundations of Spirituality" with Dr. Stephen Yuille. It was the first seminar I've had that allowed me to write a paper on Mr. M'Cheyne. I thus dove into my research with new earnestness, thinking, "Here's a sanctioned excuse to work on the dissertation!" I first planned to do something on M'Cheyne's theology of holiness. But the more I researched, the more I realized his idea of holiness is wrapped up in his understanding of Christ. It's impossible to make sense of his almost-legendary personal holiness apart from his little-known Christology. So extensive is this correlation that what came out was a paper twice as long as it was supposed to be. The girth is good—I think. (It's my hoped-for-but-yet-to-be-approved dissertation in seed form.)
One of the matters I try to advance in the paper is M'Cheyne's view of the means of as "trysts"—secret meetings between lovers. It's a delight to study M'Cheyne because he's so immediately practical for ministry. To give you a taste of what I'm discovering, and to hopefully serve you as well, here's a section from my recent work titled, "A Strangely Sweet and Precious Christ: Christological Spirituality in the Preaching of Robert Murray M'Cheyne."
---
A Christ to Love
As mentioned above, M'Cheyne's pursuit of personal holiness has marveled and humbled many a man. It is wrong however to see that pursuit as the centerpiece of his spirituality. Love to Christ was the pulsating power of his piety. In "The Love of Christ," on 2 Corinthians 5:14, M'Cheyne not only expounds Christ's love, but also what that love compels in His people's life. According to M'Cheyne, God knows our desires for sin regularly outweigh our desires for holiness. Therefore, "He hath invented a way of drawing us to holiness. By showing us the love of his Son, he calleth forth our love."[1] The love of Christ, according to M'Cheyne, "is the secret spring of all the holiness of the saints." The reason for holiness and spirituality is crystal clear: "We are constrained to holiness by the love of Christ."[2]
Most studies on M'Cheyne spirituality center on his diligent use of particular means of grace: Bible reading and prayer. What has not yet been pieced together is how M'Cheyne viewed the means of grace chiefly as vehicles of love. It is in and through these means that Christ's love comes down, and the church's love goes up. Nothing better illuminates this reality than how M'Cheyne preferred to talk about communion with Christ. For M'Cheyne, the means of grace are "trysts"—meetings between lovers. Consider the following excerpts from various sermons:
The importance of these selections for understanding M'Cheyne's spirituality is simple: his pursuit of personal holiness was little more than the pursuit of the Christ he loved. Christ's love was a glorious truth to be preached and enjoyed. Why then did M'Cheyne famously pray, "Lord, make me as holy as a pardoned sinner can be made?"[8] I would argue he did so because he saw holiness as the maturity of love; it is the highest experience of Christ's love. "Communion with God; the delighting in Him; loving, adoring, admiring Him;" these are the ordinary desires of a heart redeemed by Christ's love—these were the ordinary desires of Robert Murray M'Cheyne.[9]
To preach Christ was strangely sweet and precious, M'Cheyne wrote. So sweetly precious was the Savior to this young Scottish preacher that he could not help but let Christ saturate every sermon. He presented Christ's fullness and freeness in all its glory. Few Christological rocks, if any, did he leave unturned in that theological garden named, "The Person and Work of Christ." He did, however, sit most comfortably next to those boulders marked, "A Sure Christ," "A Converting Christ," "A Captivating Christ, and "A Judging Christ." His Christology was winsome, romantic, and simple. Here was a Christ of love. Here was a Christ to love.
Alexander Smellie said in his biography of M'Cheyne, "I never knew one so instant in season and out of season, so impressed with the invisible realities, and so faithful in reproving sin and witness for Christ. . . . Love to Christ was the great secret of all his devotion and consistency."[10] My study of M'Cheyne's preaching ministry leads me to conclude with a hearty, "Amen."
[1] M'Cheyne, From the Preacher's Heart, 52. (emphasis original)
[2] Ibid., 53.
[3] Ibid., 232–33.
[4] M'Cheyne, The Passionate Preacher, 330. Cf. M'Cheyne, Sermons on Hebrews, 32-33.
[5] M'Cheyne, From the Preacher's Heart, 234. cf., 103.
[6] M'Cheyne, The Passionate Preacher, 28.
[7] Ibid., 33.
[8] Bonar, Memoir and Remains of Robert Murray M'Cheyne, 160.
[9] M'Cheyne, New Testament Sermons, 41.
[10] Alexander Smellie, Robert Murray McCheyne (Fearn: Christian Focus, 1995), 172.